Automatic magnetic stripe applying machine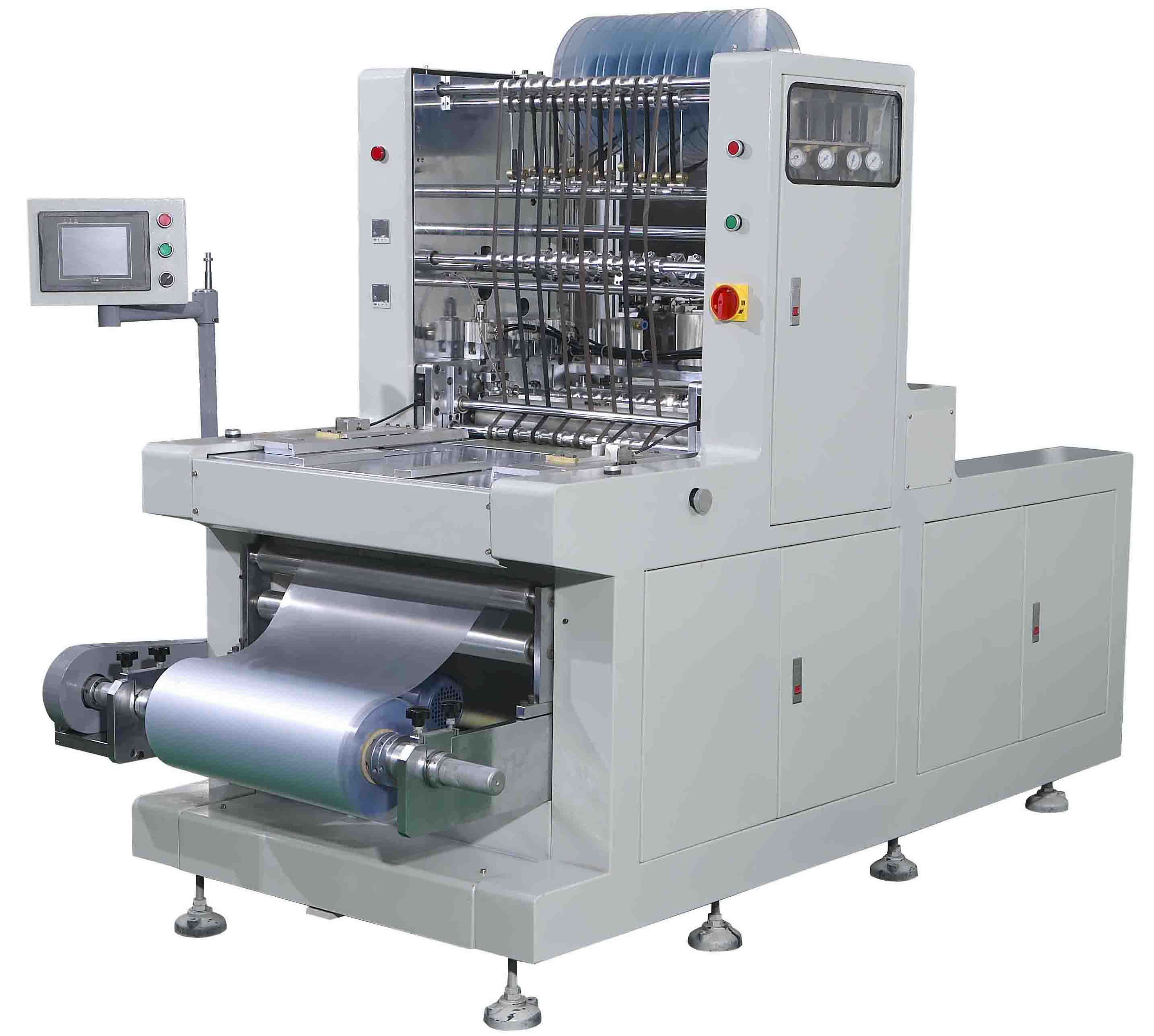 u Range of application
1、Equipped with boiling hot techniques, coiled magnetic strip was applied on the PET or PVC film or card material stable, which is under the effect of heating up and pressurization. After finish applying, it will be cut automatically which the length has to be set up beforehand, the action of applying and cutting was finished automatically, at the same time, the recycling system will recycle the magnetic strip foil. This machine equipped with the advantage of high precision and work stable, and so on.
2、Scope of applicable material: coiled film scope of thickness: 0.04-0.2mm.
Sheet film scope of thickness: 0.25-0.8mm
u Technical feature:
1、System was controlled by PLC program automatically , touch panel human-machine interface show
2、Fed by servo motor drive, control move speed and length of sending film can be adjustable.
3、Temperature and pressure can be controlled separately and adjustable.
4、Many units of trolley impact installation , the pressure of cylinder can be adjustable, which to ensure the parallel and orderliness when the magnetic was covered in the card.
5、Punching film moving was driven by cylinder, which is have the simple structure and work stable.
6、Recycling system will recycle the magnetic strip foil automatically.
u Technical Specification
Specification of cover film:
Coil stock film: scope of thickness: 0.04-0.2mm inner diameter: 3 inches, outer diameter< 20inches (500mm). Maximum width:580mm
Board material: Scope of thickness: 0.25-0.8mm, Maximum width:580mm
Magnetic strip width:1/2 inches (12.7mm) 1/4 inches (6.4mm)
Maximum quantity of magnetic strip: 8pcs
Moving speed: 5-7m/minute
Positional Accuracy: ±0.2mm
servo motor:0.9KW
Common motor: 0.4KW 0.06KW*2pcs
Heating Power:1.2KW
Weight:1500KG
Dimension:2200*1000*1600mm
◆ Using and debugging of equipment
First: Install film
1、Inspection of incoming material: The port of the paper canister shouldn't have any damage greater than 5mm, and you must smooth the raised part, or else the material will away from the correct direction. The width of material must less than 0-2mm of the width of covered film material.
2、Put the material on the charge axes, then encasing taper sleeve and nut, and both two sides should be screw tightly. After that, encasing lateral plate, adjusting the distance of two sides lateral plate of nut, then screw nut tightly by the same force. Assembling pressing part and clutch, don't close it.

Drawing of install whole cover film
3. Pull on film according to the sequence of following chart.
Whole structure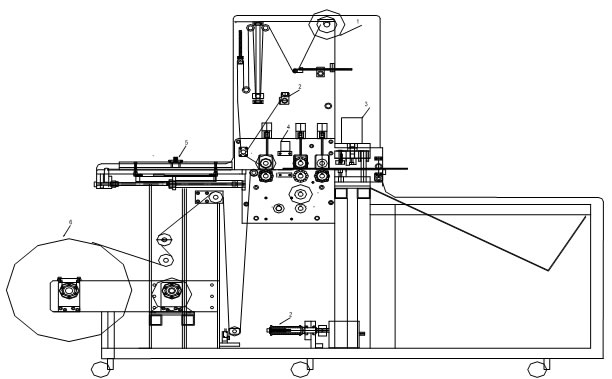 1. Part of install magnetic stripe
2. Part of receive magnetic strip mat film
3. Die
4. Reamer mould
5. Part of magnetic strip orienting and feeding
6. Part of install film
4. Film was installed by the route of install film part.
Second: Install magnetic strip
1、Magnetic part、disk and orienting of magnetic strip can be adjusted according to the demand and moving through route of drawing.
2、Protective film of magnetic strip is separate from magnetic field and then it was reclaimed by reclamation part of magnetic stripe protective film